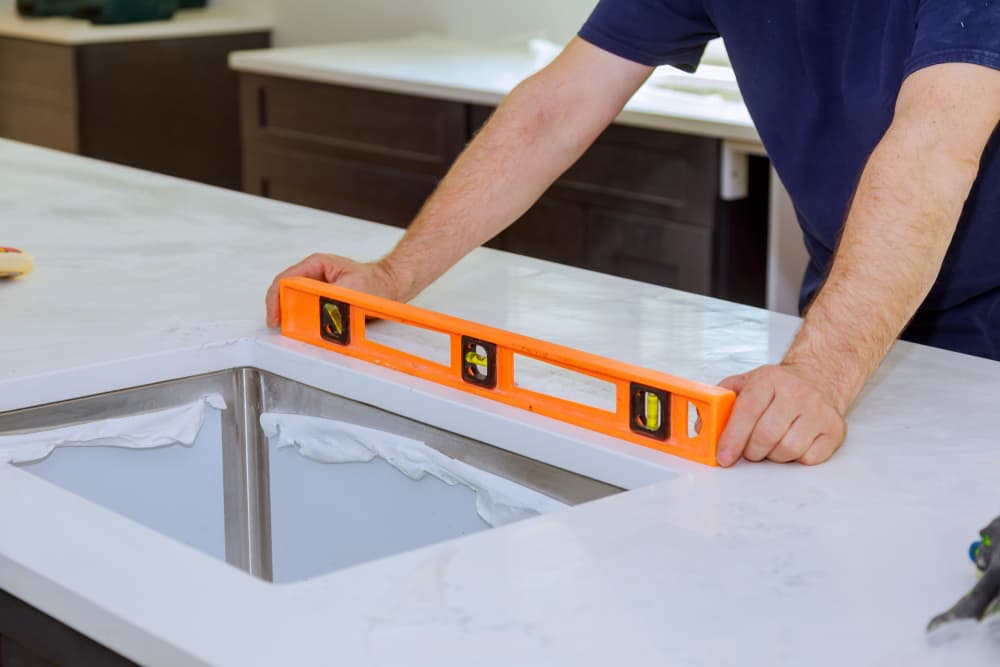 At Stonnik, we supply, fabricate and install porcelain countertops in Toronto and the Greater Toronto Area. Porcelain countertops go a long way in enhancing the beauty and elegance of your home. Gone are the days when porcelain was cost-prohibitive and only available to the affluent. Stonnik has a business model that minimizes installation costs while availing of the best quality products in the industry. Our porcelain countertops come in a wide variety of colours, shades, textures, and styles to ensure there is something for everyone.
At Stonnik, we provide reliable warehousing, fabrication, and installation services. We not only offer unmatched customer satisfaction, but all our services are affordable. We avoid order processing disruptions resulting from third party involvement by completing all orders in-house. As an established porcelain supplier in Toronto, we have an inventory of a wide variety of custom-made porcelain countertops. We are a one-stop-shop for porcelain countertops, affordable, and low-cost installation.
In addition to providing the widest variety of porcelain countertops in Toronto, we understand the importance of quality installation. We only work with professional installers who meet our strict quality standards. Our installers focus on taking the right measurements to ensure that the porcelain slabs fit perfectly in the intended space. With our quality installation services, your porcelain countertop won't crack or break after several years.
You can count on us for quality porcelain countertops in Toronto. We have perfected the process, enabling us to provide professional installation at an affordable price. When you are ready to purchase a porcelain countertop, contact Stonnik for the best products at the lowest possible prices.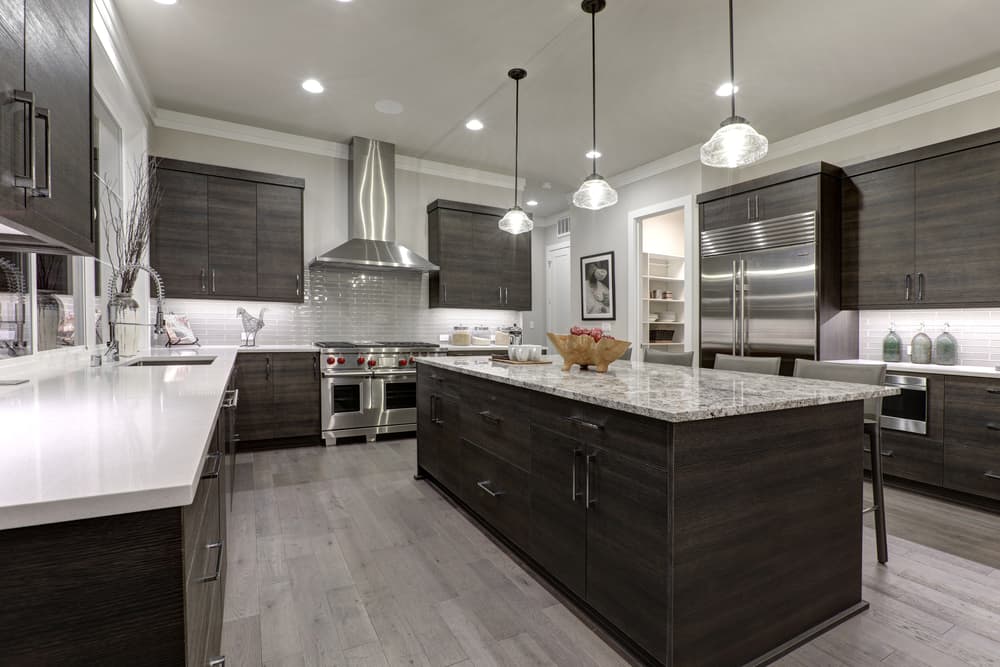 Unlike porous materials like quartzite, porcelain countertops are stain-resistant. Liquids and chemicals won't penetrate your porcelain kitchen countertops easily. Porcelain is an extremely hard surface and isn't susceptible to etching and other damage that daily household activities can inflict on your kitchen countertop. Since porcelain countertops are manufactured at very high temperatures, they can take the heat. Placing hot items on your porcelain kitchen countertop won't damage or scorch it. Porcelain countertops are hard and durable – their durability is second to stone. They can stand up to most impacts and are unaffected by general wear and tear.
The quality of the material you choose for your kitchen countertop matters – a kitchen countertop is the most important household kitchen component. This is where you prepare meals and probably eat. People love to spend time in the kitchen. Your kids probably do their homework in the kitchen. A kitchen countertop holds all the essentials in a kitchen, including different kitchen appliances. Since a countertop holds up a lot of weight, it's essential to invest in a durable countertop. Your kitchen countertop can only be as good as the material it's made of. Investing in the wrong countertop could disrupt the kitchen chores, affecting the functionality of your kitchen.
The cost of acquiring and installing new porcelain countertops will vary depending on the project scope, preferred contractor, and location, among other factors. However, even if you incur the initial installation costs, the benefits of porcelain kitchen countertops outweigh the costs. With our great variety of porcelain countertops, you will get the perfect one for your kitchen.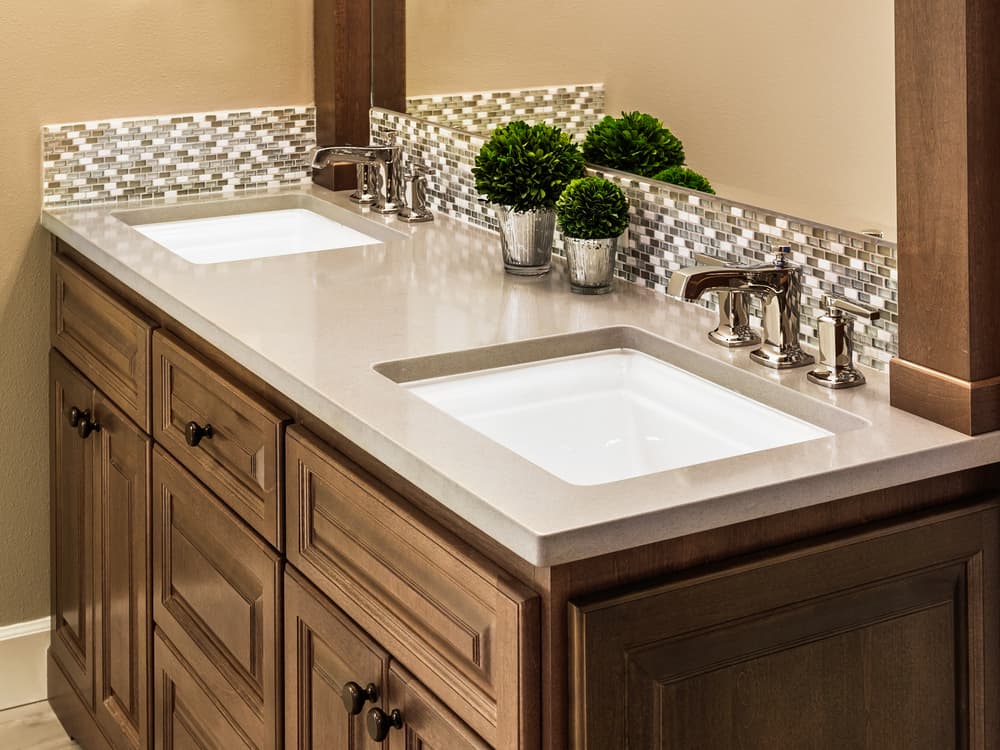 Durability and beauty are both important factors when choosing your bathroom countertop. The good news is that bathroom countertops are often custom-made, which leaves style and design options wide open. You can choose from a wide range of materials that rhyme with the overall layout and appearance of your bathroom. Even though pre-manufactured bathroom countertops can provide a broad range of options at an affordable price, most homeowners prefer custom-made bathroom countertops. When choosing the right countertop material for your bathroom, you should not just focus on the functionality but also its durability.
Porcelain countertops come in various colours and patterns, enabling you to make the right choice for your bathroom. With the right colour combination, porcelain countertops give you a customizable pattern giving your bathroom an ultramodern look. The glaze on porcelain countertops serves as a waterproof coating, making porcelain bathroom countertops easy to clean. Porcelain is a popular material for bathroom countertops in Toronto. The fantastic benefits of porcelain and its low cost make it an ideal countertop material for many homeowners.
The material you choose for your bathroom countertop should support its daily use, whether heavy or low. Porcelain has exceptional quality and performance characteristics, making it an ideal countertop material. It's heat resistant since it's manufactured under extremely high temperatures. Porcelain will comfortably support heat tools like curling irons and hair straighteners. The material is also resistant to scratches and can withstand pressure. Because porcelain countertops are easy to clean, you can keep your bathroom sparkling at all times.
Porcelain Countertops – Stronger and Less Expensive
The team at Stonnik has installed numerous porcelain counters in Toronto homes. Our clients prefer porcelain countertops because they're much stronger and less expensive compared to other options like granite. Porcelain has a beautiful natural appearance that adds character in any room where it's used. Unlike granite and marble which are too heavy, porcelain is lightweight and hence simpler to install. It also doesn't require any sealing and is heat resistant. These are some of the advantages our clients find in porcelain countertops Toronto.
WHY CHOOSE PORCELAIN COUNTERTOPS IN TORONTO?

CHOOSE MODERN PORCELAIN COUNTERS
The technology used in making porcelain countertops has advanced in recent years. Today, this material is used in making counters for commercial and residential spaces because it's versatile, durable and easy to maintain. At Stonnik, we recommend porcelain for exterior use. It's an excellent option in outdoor kitchens especially if you're looking for a consistent design that flows from your home to the property's exterior. The best part is, porcelain surfaces are available in a wide range of colors and patterns. The slabs are ultra thin and easy to handle during installation. Your kitchen will be instantly upgraded with sleek and elegant porcelain counters that boost the property's value.

LOW MAINTENANCE
One of the top benefits of choosing porcelain countertops for your kitchen is that the material requires minimal maintenance. First, these countertops are easy to install because they are lightweight, and even after installation, the maintenance process is easy. It can be made into large slabs, and that means you will have minimal grout and seams to clean. Besides, porcelain countertops are nonporous, and that means no sealing or waxing is necessary during installation and in the future. According to experts and property owners who have been using these countertops, it's extremely easy to clean porcelain countertops. This makes them a great choice for homeowners who need sparkling kitchen countertops. During their manufacturing process, the firing session creates an exceptional glaze that makes porcelain waterproof. To keep these countertops spotlessly clean, all you need to do is to wipe it or wash using warm, soapy water. Besides, you can use bleach and other strong chemicals when cleaning the countertop as the glaze will prevent any possible damage.

HEAT AND SCRATCH RESISTANT COUNTERS
Countertops are surfaces exposed to all kinds of elements. From extreme heat to sharp objects, your kitchen counters must be designed to withstand all kinds of stresses. The good thing with porcelain surfaces is that they are heat and scratch resistant. You may even select a premium grade porcelain countertop that's made using advanced technology to make it non-porous like quartz. With the new technologies, porcelain counters are not only better in appearance but also come in amazing features that improve their function. The slabs can be as large as 5 by 10 feet, which makes them ideal in larger kitchen islands. There are lots of design possibilities when it comes to porcelain counters.

VARIETY OF COLOURS AND PATTERNS
One of the top benefits of porcelain countertops is that you can customize the overall appearance of your kitchen counter to reflect your personality and style. The material is available in a broad range of colours, and you can choose an option that matches your current kitchen layout or pick a colour that offers your kitchen space an entirely new, exciting look. Note that porcelain countertops in Toronto aren't at risk of discolouration and that means your kitchen will look great for decades. In addition to the endless list of colour options, this material comes in different patterns. By successfully manipulating the material's pigmentation, it can be made to match other items in your kitchen or give them an entirely new appearance. You'll have access to a variety of finishes when installing these counters. Whether you opt for a highly polished or matte surface, you can customize the ways you finish your counters.

EASY TO INSTALL
Did you know that you could install porcelain over an existing countertop? If you're planning a new renovation and want to cut down on costs by retaining the existing countertop, consider a material like porcelain that comes in ultrathin slabs which can be placed over another counter. We love to install porcelain because it's lighter and easier to handle than natural stone. Furthermore, porcelain can be cut during installation in order to achieve the perfect fit. When it comes to the design, porcelain tiles can mimic the exact look of natural stone or wood. You get an opportunity to give your space a traditional or rustic look without the high cost of wood and natural stone.Porcelain makes it easy to create a space that's personalized to suit every budget and need. At Stonnik, we've handled numerous projects that involve porcelain counters. Whether you need help in choosing the ideal countertops or want expert installation services, our team is ready to assist. We offer consultation on kitchen and bath renovations throughout Toronto. Our staff is exceptional and we offer an immense range of products all under one roof.

LIGHTWEIGHT
Currently, porcelain countertops in Toronto are about 5 mm thick (approximately 3/16") though there are other width sizes available in the market. Given the thin size of this material, they can add an exceptional style to your wall panels and backlashes, panels for the sides of your kitchen cabinets or island. They can also serve as decorative accents in other areas of your home. Note that lightweight materials make the entire countertop installation process easy. Unlike granite and other natural stone materials, porcelain can be made into large slabs. Based on the specific size of a slab, you can cover the entire section of kitchen counters with just a single piece of porcelain without worry about too much weight. This simplifies the installation process to an exceptional degree. It's also easier to move these slabs around in your kitchen during installation. Given the minimal thickness of porcelain countertops, they can installed directly over your current countertops. If you were to install concrete or granite countertops, you would fits remove the existing material prior to the installation of the new countertop.
Porcelain Countertops Page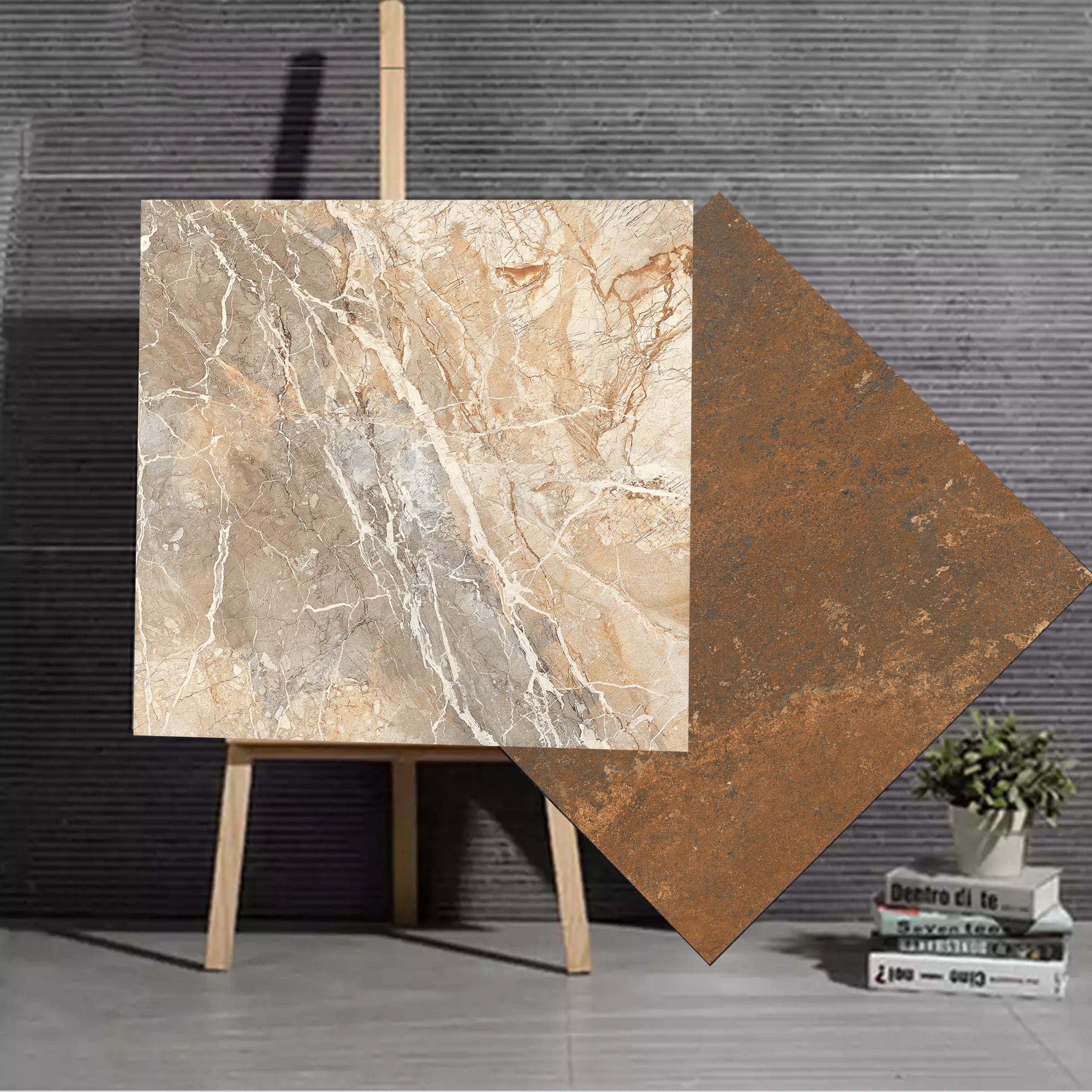 In general, porcelain tile is usually harder than ceramic. Porcelain also offers greater design flexibility. While they are both made from clay and other naturally occurring materials that are fired in a kiln, the clay used to make porcelain is more purified and refined. All the same, a thicker tile is better. Thicker tiles are less likely to crack or break than thinner ones. This is for the simple fact that thicker tiles are stronger. They are ideal for flooring, more so in areas that experience high-traffic.
The standard tile thickness of porcelain slabs is between 6mm and 12mm. The largest slab size, on the other hand, is about 10 feet by 5 feet. It is important to note that buying thicker and larger slabs of quartz or granite for kitchen countertops will cost more. You will also need to remember that the installation cost of these large, high-value materials is a tad expensive.
To ease the burden, your best option is to opt for the thicker and large-size porcelain slabs. There are several advantages you get from buying porcelain slabs. These benefits include:
Large porcelain slabs will eliminate the issue of having numerous joints and grouts. This will make it painless for you to clean the countertops.
With larger slabs, you will only need a few slabs. This means there will be fewer noticeable seams.
Porcelain slabs are cheaper than quartz and granite.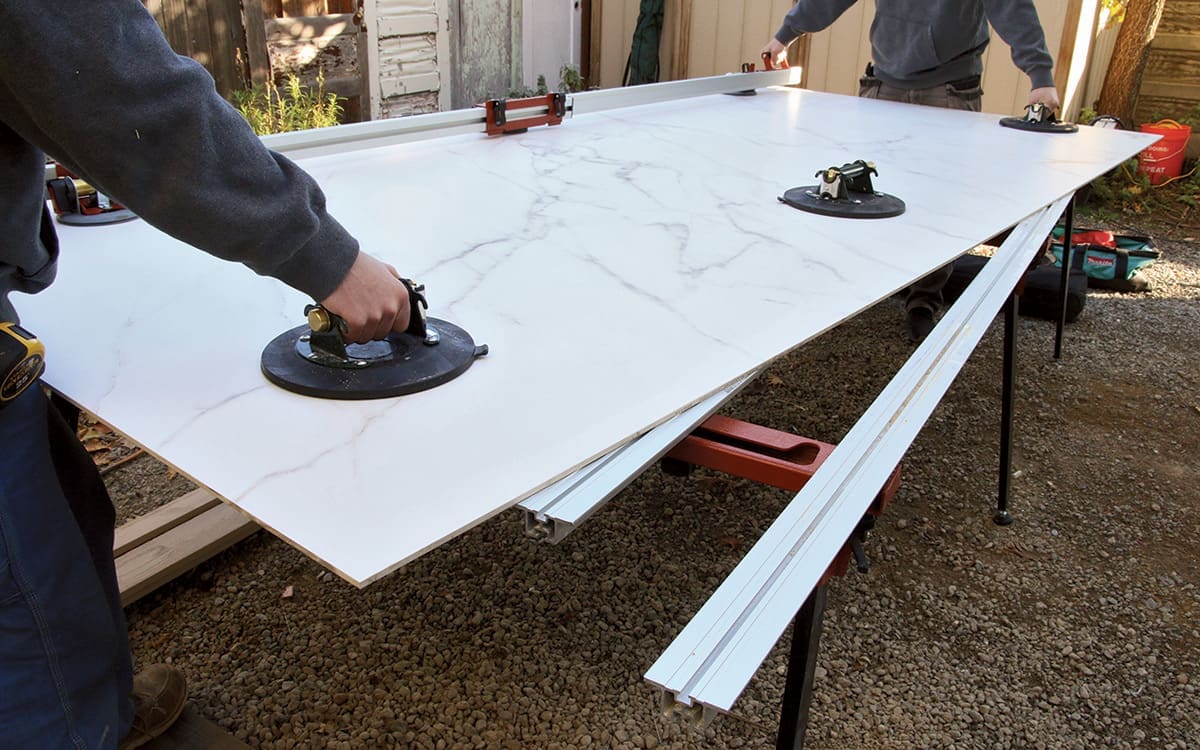 While the installation of porcelain tiles seems to be as simple as laying any other tile, you need expert help to get the best results. The process is, however, not as complicated.
In most common practices, when remodelling the kitchen countertops, the first thing that is done is removing the original materials on the countertop. This is usually not an easy job. It is costly, time-consuming and requires a significant amount of effort. You also have to deal with waste disposal.
The good news is porcelain slabs have a lighter density and thickness. This leads to a versatile installation process; you don't have to remove the original materials of your kitchen countertop. Porcelain slabs can easily be installed directly on top of existing materials. This will save you time and money that would otherwise have been used to remove the old materials.
To install porcelain tiles, the most important step is cutting out the necessary dimensions. You have to keep in mind that porcelain slabs are characterized by low water absorption levels. The absorption level is below 0.5%. As a result, it is important that you use specific high-quality adhesives. It is also advised against installing on cement flush. An epoxy adhesive is the best adhesive to use. This will stick the slab strongly on the countertop surface.
While the job may appear easy, it is always wise to work with an experienced installer.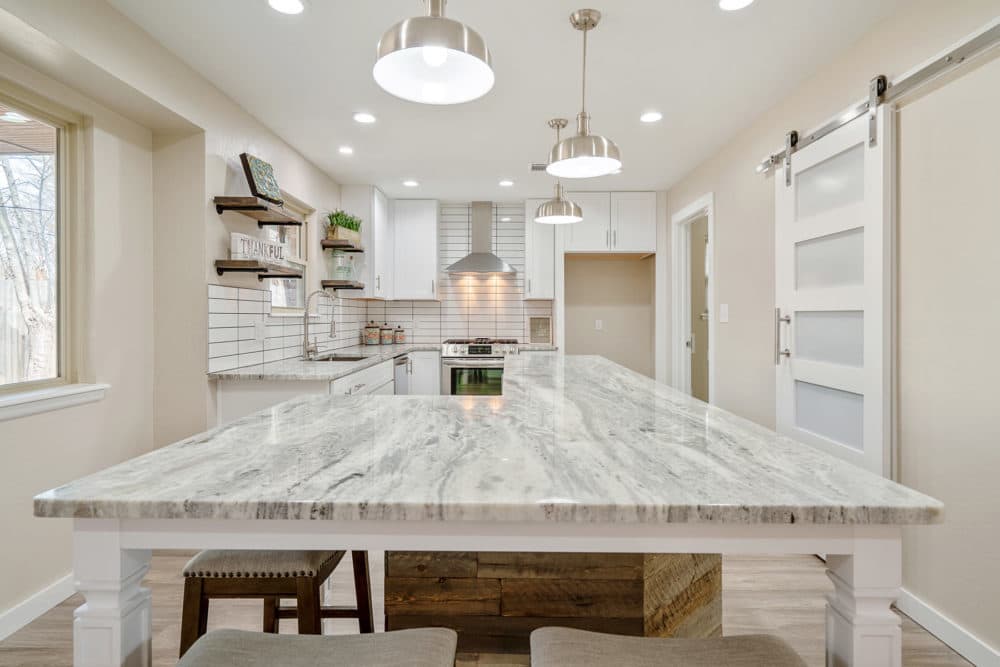 On average, porcelain countertops, together with the installation costs, will come to around $60 to $100 per square foot. The amount you end up spending will depend on a number of things. Factors that affect the overall cost of installing porcelain countertops include the chosen colour, size of the tile, the thickness of the tile, type of edging and whether you used backsplashes, corners and cutouts.
If you plan on using the countertop for the backsplash, you can expect to spend more. The case is the same if the countertop has a particular shape. Adding a trim will cause the costs to rise.
Regarding size, if the size of the countertop is big, you will end up paying more to install porcelain countertops. Before you start shopping for the right countertops, it is always a great idea to get accurate measurements of the total area where you plan on installing the porcelain countertop.
Where you purchase the porcelain will also affect the total cost. Some brands tend to charge more for their products. When buying, you need to choose the materials from reputed brands known for offering high-quality porcelain countertops.
A pro tip to help you save money on porcelain countertops is to go for the tiles. Tiles cost less than the slabs. The plainer styles are also more affordable. If you opt for tiles, going for a less complicated installation design will further save you some money. You can also avoid unnecessary damages by working with an experienced installer. This is especially so when you consider that cutting porcelain tiles to size is more difficult than cutting other materials.
Frequently Asked Questions
BEST CHOICE AWARD
What makes Stonnik the first choice of many homeowners and designers, is not only our services quality, it is the easy and clear communication our commitment to customer service. Because we do so many unique projects with unusual and exotic stones, we have a huge selection of one-of-a-kind remnants be that marble, porcelain, granite or
quartz countertops
, that are perfect for bathrooms, fireplaces, tabletops, and other small projects.