If you enjoy spending time in the backyard with family and friends, installing an outdoor kitchen will be a great investment. However, you have to bear in mind that inferior craftsmanship will deteriorate quickly regardless of how beautiful it looks during installation. Your top priority, more so when it comes to the countertops, has to be durability. The options you go with must be able to withstand the harsh outdoor conditions otherwise your investment will go up in smoke within no time.
There are many options available when it comes to countertops for an outdoor kitchen. Each option has its share of pros and cons thus the need to do thorough research before making your choice. Here are some of the best materials for an outdoor countertop.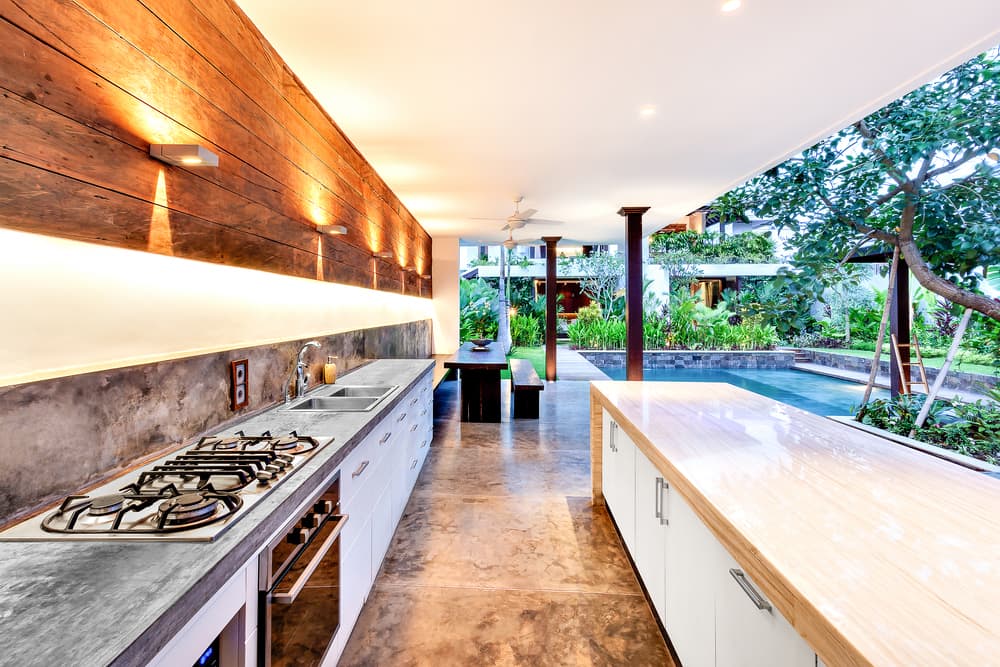 Granite
This is the first option that homeowners consider when it comes to both indoor and outdoor kitchens. The reasons for these are granite countertops are durable and hold up very well in the elements. There are also so many colors to pick from and most of them will not fade when exposed to the sun and other elements. It is also good to remember that granite will not be weakened or damaged by heat. When properly sealed it will also resist stains, mildew, and mold.
If you need a surface that is cooler to the touch you should opt for the lighter color granite countertop. A honed finish will also look more natural than a polished finish in your outdoor kitchen. Remnant slab will be an affordable option for a small outdoor kitchen.
Soapstone
This is yet another natural material you need to consider for your outdoor kitchen. It is a dense material that is resistant to stain and heat. You don't have to seal it either but you will need to treat it periodically using special mineral oil. The treatment helps to enhance the natural darkening process of soapstone.
Tile
If your house is located in an area with the warmer climate you should go with tile. Tiles are not the best choice for the cold climates because grout is susceptible to cracking during thawing and freezing. Opt for the granite and porcelain tiles over the ceramic ones. Grout will also stain thus the need to go for a darker color. Using larger tiles will further reduce the number of grout lines.
Concrete
When installed properly, concrete countertops are able to withstand quite a wide range of elements. You will, however, need to apply a sealant regularly in order to prevent staining.
Quartz
When working on an outdoor kitchen you should avoid the use of quartz countertops at all costs. This is because the material fades when exposed to direct sunlight for long. Formica should also not be used in outdoor settings because it cannot withstand humidity and moisture since the core is made from particleboard. Formica in an outdoor kitchen will warp and deteriorate very quickly.
Talking to a professional installer is the best thing you can do when searching for the best materials for your outdoor kitchen countertops. You must also leave the installation work to the professionals.